Message from Chairman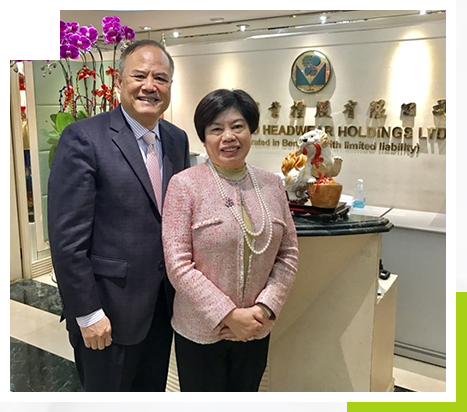 Since the establishment of Mainland Headwear Holdings Limited, we have been a leader in the high-quality headwear industry in terms of design, manufacturing and distribution.
Headquartered in Hong Kong, we opened our first factory in 1992 in Shenzhen, China. Since then, our business continued to expand and grow.
In 2000, we became the world's first and the only publicly-listed headwear manufacturer.
Since 2005, we have expanded our business to Europe and the United States through our subsidiaries, Drew Pearson International, H3 Sportgear and San Diego Hat Company.
To cater for the growing demands, we expanded our manufacturing plant in Dhaka Bangladesh in 2013.Spanning 11 floors, 65,000 square metres and employing over 4000 staff, the factory is equipped with advanced machines and automatic systems.
The production capacity can reach 150,000 pieces daily. We are pursuing more efficient management to improve productivity and reduce material consumption. By adopting more rapid and flexible operation solutions, we can shorten the turnover time while ensuring stable product quality.
We believe every successful enterprise should discharge corporate social responsibility. Therefore, we built a local orphanage and school to provide care and quality education for the next generation.
Our Marketing and Merchandising team has extensive experience in serving global retailers, including mid-tier and high-end department stores, speciality stores, sports chains stores and large brands.
We are always ready to help our customers in developing strategic sales plans from positioning, product development, pricing, to product launch timelines.
The professional one-stop service has established our good reputation.
In 2017, we opened our new office and distribution facility in California, which consolidated our operations and warehousing facilities in the US, and more importantly, accelerated our product launch to the market.
By our product development knowledge from conceptualisation to the final products, we believe we can support our clients to become the market trend leaders.
Mainland Headwear Holdings Limited can customise headwear for every occasion, whether it's for your favourite sports teams, everyday outfit matching or outdoor sun and cold protection. Our products can always fulfil your requirements.
We acquired subsidiary Aquarius Ltd recently. However, we would not stop here. We are committed to bringing our products to the wider world.
We will keep expanding our product portfolio in the future, such as bags, belts and other accessories. More and more suppliers and brand cooperations will continue to grow along with our global expansion.