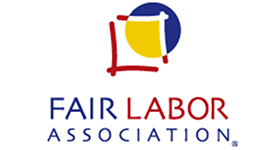 After a three-year examination conducted by Fair Labor Association (FLA) which is an NGO promotes and protects workers' rights to improve workplace
compliance standards, Mainland Headwear Holdings is accredited by their board of directors on February 28, 2019.
Being an accredited Participating Supplier member of FLA, we are verified that the compliance programs and systems in place needed to uphold fair labor standards throughout our supply chain.
Please click here to view the Accreditation letter (PDF version)
In 2022, we continued to work with Fair Labor Association to uphold workers' right on the fair compensation by using their tools and developing the compensation blueprint.
Please click here to view the our Commitment on Fair Compensation programs(PDF version)